Description
This Signature aroma is created in collaboration with MeadowFox
.
.

This cozy aroma of Forest & Flannel is like awakening to a fresh cup of coffee brewed tent side on a campfire under a boundless canopy of Fir boughs while wrapped in your favorite flannels.
.

A portion of the proceeds for Forest & Flannel is donated to Wildwoods, a wildlife rehabilitation center located in Duluth, Minnesota.
.
MeadowFox is a harpist, artist, and online content creator from Duluth, Minnesota. She also loves costumes, gardening, the Renaissance Festival, baking, and being cozy at home with her cats and husband. She brings creativity and a bit of fantasy to all she does. Please visit her Twitch channel for music and art livestreams, her YouTube channel for relaxing harp music, and her Etsy shop for paintings and art commissions.
She is proud to support a local non-profit dedicated to the well-being and protection of wildlife near her surroundings in northern Minnesota.
About Our Candles:
Each Artisan candle is cold-poured in small batches by hand using our blend of 4 non-dyed premium botanical plant waxes and artisan-crafted fragrances, then meticulously aged until the aroma is at its best.  Each candle is then carefully polished, then craft labeled, and bench-wrapped in compostable packaging to protect the hand-finished recycled glass vessel. And they smell good.
These handcrafted Artisan candles are available in our Suede Greem 12 oz Grand-sized vessel.
Customer Reviews
100
reviewers would recommend this product
Write a Review
11/23/2022
Morgan R.

United States
I recommend this product
Love Love Love!
I've purchased five different candles from Begonia and Bench as gifts or for my own home and I can confidently say that everyone has thoroughly enjoyed these candles! The scents are strong enough but still palatable and they don't have that "chemically" smell that other large candle makers have. I strongly align with the company's commitment to saving the planet by planting trees and designing the packaging with NO plastic!! I love this company and everything they stand for!
08/26/2022
Anonymous

United States
I recommend this product
Candle
I had a fabulous experience smelling and purchasing g my candle. It burns slowly and has a wonderful aroma.
08/03/2022
MeadowFox

United States
I recommend this product
Wonderful Cozy Scent for "Up North" Vibes
I was thrilled and honored to collaborate with Begonia & Bench on this candle. The scent turned out to be a marvelous blend that is perfect for settling down with a hot beverage, warm blanket, art project, reading a book, or other cozy activity. I love the aromas of campfire and pine that remind me of camping or being at a cabin Up North, while the touches of delicious coffee and slightest hint of a masculine fragrance add a homey and comforting feel to this candle. This is the perfect "cabin" candle! I hope everyone who tries this candle loves it as much as I do.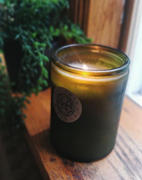 07/24/2022
Nicole

United States
I recommend this product
Cozy forest vibes
This candle is the perfect candle to light for a cozy feeling, with a just-right balance of warm roasted coffee and woodsy scents. The coffee throw is much stronger when unlit, but when lit the smell fills the room and the wax blend is still going strong for a surprisingly long time! Overall a great purchase, and for a good cause!